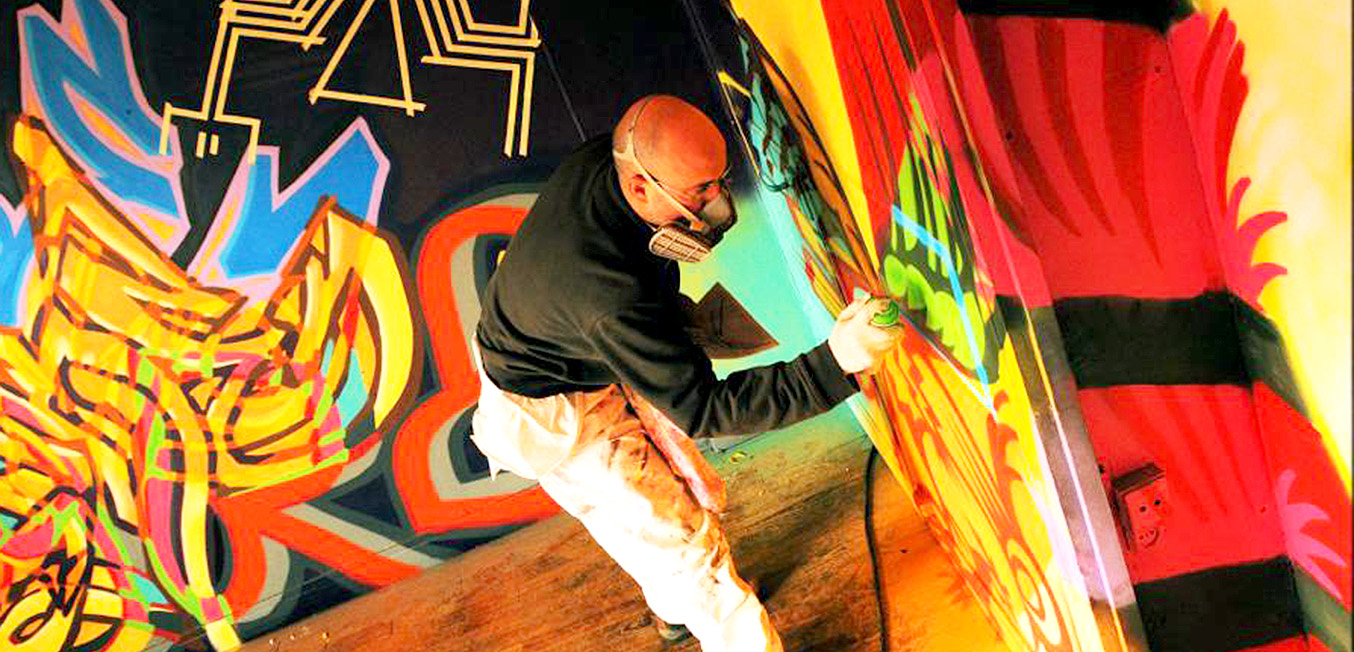 Photo © Altoff
Myre emerged as a graffiti writer while still a teenager, leaving his mark on public spaces in Paris and other big cities around the world. With his introduction to the budding graffiti scene in Latin America during his first trip there in the early 2000s, his approach began taking a definitive shape – a fusion between the tools of muralism, Latin American graphic art and an urban practice rooted in the rules that defined New York's golden age. His lettering developed a universal geometric vocabulary tinged by the Chilean palette. This chromatic experimentation remains at the core in his recent, more figurative work. For the last ten years he has been doing studio work in a personal exploration where the aesthetics of graffiti writing meet art history.
Born in Chicago in 1976, Myre lives and works in Paris, France.
Underlined words below will indicate that there is a web link with more content.
You can also browse the whole portfolio in the What? section that is divided in two main categories:
A. In Situ(ation) or out door urban art
B. Classical in door Studio work
Urban Labyrinth (muralism projet)
Flowetry (muralism projet)
Group show in Barcelona Spain (SGaleria / Arteria)
Residency in the city of Mulhouse, France. An AKRylonumérik performance was created directly on site, as different interventions took place in the city.
Muralism projects in the city of Romainville and Cergy, France (as part of Cergy Street Art Park), as well as Brussels (Belgium) and Berlin (Germany).
(Digital interactive installation in a 200m2 room, as part of the « Magic City » theme show, in Dresden Germany)
Muralism projects in the city of Bagnolet and Saint Ouen, France
Collaboration with the artist Joaquim Romain on a triptych done for the Conseil Général de Seine Saint Denis
AKRylonumérik Performance « Ghetto Blaster » in the city of Meaux, France
Group show « Libertés Chéries » in the city of Romainville, France
Muralism projects in the city of Santiago (Chile) and Bagnolet, France
Villette Street Festival (Group show)
25th Flour, Project in the Tour Pleyel (with 9eme Concepte)
Vente Artcurial au profit d'Autistes Sans Frontières
« Picture Hall » AKRylonumérik Installation at the Parc de la Villette, Paris France
Tour13 (Galerie Itinérance), Paris France
Group show at the casino in Biarritz, France
Vente au profit de Paris Tout Petit / Vente au profit de SOS Racisme
done in the Pergamom museum of Berlin, Germany
and during the Nuit Blanche in Paris France
with the support of Nikki Diana Marquardt gallery
Vente au profit du Musée en Herbe
An AKRylonumérik performance was created directly on site, as different interventions took place in the city.
Group show « Paraiso Urbano » (Galerie Itinérance Paris France)
2010: « Zat (Zone artistique temporaire) »  – AKRylonumérik performance, Montpellier France
« Urban Proof » (for Nissan) – AKRylonumerik performance
2009: « TAG au Grand Palais » Grand Palais, Paris France
« Né dans la rue » – AKRylonumérik performance, Fondation Cartier, Paris France
« Mapping Festival » – AKRylonumérik performance, Geneva Switzerland
Muralism project in Ivry France, and at « Roskilde Festival », Copenhagen Denmark
"(…) my only sincere intention is to simply transform "rythmes" and "funk" into a painted or an animated surface, using colors and lines (…)"